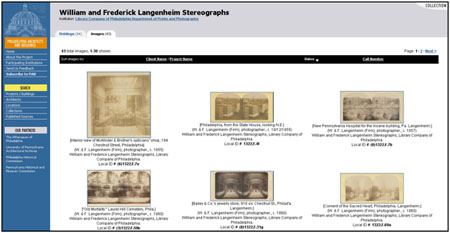 In coordination with the Athenaeum of Philadelphia, the Library Company has recently added collections to the Philadelphia Architects and Buildings (PAB) website. Unlike previous records supplied by the Library Company, the newly uploaded collections include digital images of the original photographs, further enhancing the records. Recently uploaded collections include the William and Frederick Langenheim Stereograph Collection, the McAllister & Brother Church Photograph Collection, and the James McClees Philadelphia Photograph Collection, with more to follow.
For those researching Philadelphia buildings, architects, or neighborhoods, this website is a rich resource with over thirty-four institutions contributing data. The Library Company plans to digitize images of several other collections that are listed in PAB, thereby enhancing this ever-growing website. The Library Company thanks Walter Rice of R&R Computer Solutions, who has uploaded our material onto the website. To see the Library Company's collections on PAB's website, please visit this link:
http://www.philadelphiabuildings.org/pab/app/in_display_collections.cfm/480904
You will need to register as a user in order to view records on PAB, but there is no fee to do so.