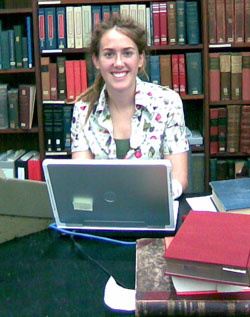 Madeline Carlson
Madeline Carlson:
Madeline Kreider Carlson, a history major from Haverford College, added to our database of published portraits of American women. Madeline also assisted in the Reading Room and designed an online exhibition featuring women who stepped outside the bounds of 19th-century propriety.
Breana Copeland:
Breana is a Photography and Digital Arts major at Moore College of Art. During her time as a Print and Photograph Department intern, Breana inventoried over 500 regional, national, and international maps in preparation for a future map cataloging project. Her database, including the names of cartographers, artists, publishers, titles, dates, and a brief description, will allow for better access to and preservation of the collection.
Samantha Kulp:
Samantha Kulp, niece of former LCP conservation technician Julie Snell, is a rising senior, majoring in Art History at Penn State University. Samantha provided research assistance for the Philadelphia on Stone project. She utilized Ancestry.com to compile demographic data about the 500 Philadelphia lithographers to be included in the biographical dictionary as well as surveyed the Sunday Dispatch for the obituaries of select lithographers. Her research will also inform the content of the book and exhibit.
Sonali Mishra:
Sonali Mishra spent 5 months volunteering in the Cataloging department. After cataloging some sheet music, she moved on to conducting an inventory of our music collections. We will rely on the data she collected in the future when making decisions about the management of the music collection and when considering future cataloging grants. She will start her Management Information Systems degree at the University of Michigan this fall.